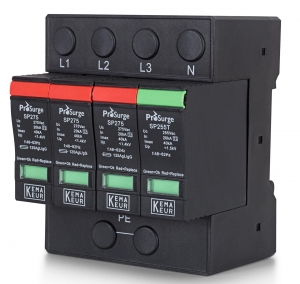 Congrats!
In Mar 04, 2021, Prosurge passed the re-examination prodecure on its Surge Protective Device (SPD) from DEKRA Certification B.V. and granted to continuously bear the KEMA-KEUR certification mark.
DEKRA Certification B.V. has its Head office at Arnhem, The Netherlands, with the Registration number: C 001 and can apply tests to the SPDs as per EN ISO/IEC 17065:2012.
Prosurge SPD is with global patented thermal disconnector design and arc extinguishing device (TPAE technology), fail-safe and self-protected. It design with thermal protection to open in the event of overheating due to an abnormal over-voltage or temporary over voltage (TOV) and will interrupt any abnormal current that may be encountered.
This KEMA-KEUR SPD also UL listed as Type 1 SPD per UL1449-4th.