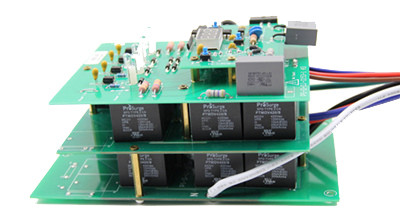 Enclosure-less Surge Protection Deivce
Enclosure-less Panel Surge Protection Device – for Local Made / SKD
Prosurge's PCB Assembly (PCBA) series are one-stop high performance surge protection solution for worldwide OEM customers. They are fully functional and flexible surge protection PCB assembly and thus will significantly reduce customer's investment in designing, certifying and manufacturing and thus ensure an efficient local-make product at minimum cost.
PCBA series fully meet the demanding protection requirements of equipment operation in high-risk or critical commercial and industrial environments. By employing Prosurge's patented technology, a thermally protected and arc extinguishing MOV technology (PTMOV/20PTMOV/SMTMOV/HSMTMOV), PCBA series have a significant advantage in abnormal over-voltage & high fault current safety to deliver industry's highest level of safety and performance. The parallel redundancy modules design makes the PCBA more robust and reliable and ensures that they can handle great impulse current up to 900kA and multiple impulse current at its highest rated level.
Combination
Prosurge will handle the complicated and time-consuming jobs in manufacturing a panel type surge protection device so that customers can maufactuer their UL listed panel type SPD at mimum cost and time.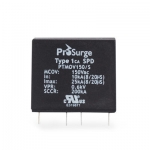 25kA TPMOV
PTMOV: In 10kA, Imax 25kA
20PTMOV: In 20kA, Imax 25kA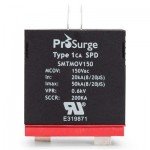 50kA & 75kA TPMOV
SMTMOV: In 20kA, Imax 50kA
HSMTMOV: In 20kA, Imax 75kA
Features
UL 1449 4th Type 1CA recognized SPD with SCCR up to 200kArms without external fuse or CB
UL1449 4th Type 2CA SPD with sine wave tracking, SCCR up to 200kArms without external fuse or CB
Patented PTMOV/20PTMOV (PSP PCBA), SMTMOV/HSMTMOV (PS PCBA) as key component
Full modes protection
Large surge energy capability up to 900kA (8/20μs) with compact size
Low voltage protection level
Degradation failure indication
Surge event counter optional
Failure pre-test
Remote alarm
Applications
ANSI/UL 1449 type 1/type 2 location surge protective device OEM building
ANSI/IEEE C62.41 Category B, C, D, E surge protection device OEM building
IEC 61643-1/11 Class I/II surge protection device OEM building


PSP PCBA Type
PSP B
PSP C1
PSP C2
PS D
Certifications
ANSI/UL 1449 & CSA C22.2 Type 1/2CA
Connection Type
Parallel Connected
Enclosure Recommend
& Dimensions, W x D x H
Plastic enclosure
130 mm x 80 mm x 70mm (min.)
Plastic enclosure
200 x 150 x 100 mm (min.)
Metal enclosure
260 x 190 x 109 mm (min.)
Metal enclosure
350 x 340 x 225 mm (min.)
Surge Capacity
Imax: 50kA/phase
Imax: 100-300kA/phase
Imax: 150~900kA/phase
SCCR Rating
200kArms
Sine Wave Tracking
Optional for UL Type 2 certification
Lightning Counter
No
≥ 200A (with Reset button)
Failure Pre-test
No
Press 2S (test button)
Power Status Indication
Normal = Power LED ON
Normal=Blue LED ON
Working Status Indication
Fail=Surge protection LED ON
Normal= Blue LED ON; Fail= Blue LED turn to Red
AFM (three-stage indication)
Power Connecting
12AWG
10AWG
8AWG
Signal Cable
16AWG (C=Red; NC=Blue; NO=Brown)
Working Environments
Temperature -40ºC~+75ºC,
Temperature -40ºC~+80ºC,
Humidity relative 5~95% (25ºC), Altitude≤2km
PCBA Dimensions
110 x70 x 57mm
173 x 122 x 85 mm
189 x 122 x 85 mm
284 x 254 x 155 mm
Mounting Hole
Two holes, and distance: 110mm
Three holes: 70×155 mm
Three holes: 105.7×178 mm
Four holes: 140×112 mm
Net Weight (typical value)
0.23 kg
1.0 kg
1.0 kg
6.5 kg
Prosurge Surge Protection Device Products Family
Click to explore our extensive surge protection devices and other lightning protection products.
Contact Prosurge and Get Reply in 2 Hours
see how competitive our price is : )
Live chat with us by clicking the chat button on the bottom right corner
Fill the Contact Form and Get Reply in 2 Hours
For North American market, please contact
For other markets, please contact