Surge Protection Device (SPD) for LED Lighting
Surge Protection Device for LED Street Lighting
LED Light is a voltage sensitive device and must be supplied with a voltage above its threshold voltage and a current below their rating. Its lifetime will be reduced dramatically even with a small change in applied voltage. In order to prevent failure or to extend its life time, the installation of proper surge protective device (SPD) against surge damage is highly recommended.
The low voltage surge protector WS3VT/390-10 is a compact surge protection device (SPD) especially for outdoor LED light and LED street light in lightning & surge protection. All mode protection circuit enables it used universally worldwide. VT technology is used to eliminate leakage current to ground (or protective conductor) to avoid malfunction of upstream residual current protection device.
Features
C

omplied with IEC 61643-11 and UL 1449 4th
Designed to protect single-phase LED light or other electrical and electronic facility
Suitable for using in Un 110~347Vac single phase
VT (GDT and MOV in series) technology to eliminate leakage current. And provide better reliability and robustness & TOV(temporary over-voltage) withstand performance
Max Discharge Current up to 10kA 8/20us and Open Circuit Voltage Uoc to 20kV
Offering full mode protection to L-PE, L-N, N-PE
IP67 waterproof enclosure
Surge Protection Solution for LED Lightning
Combined with Prosurge's DIN-rail SPD, we offer a perfect Class II+III surge protection solution for LED Lightning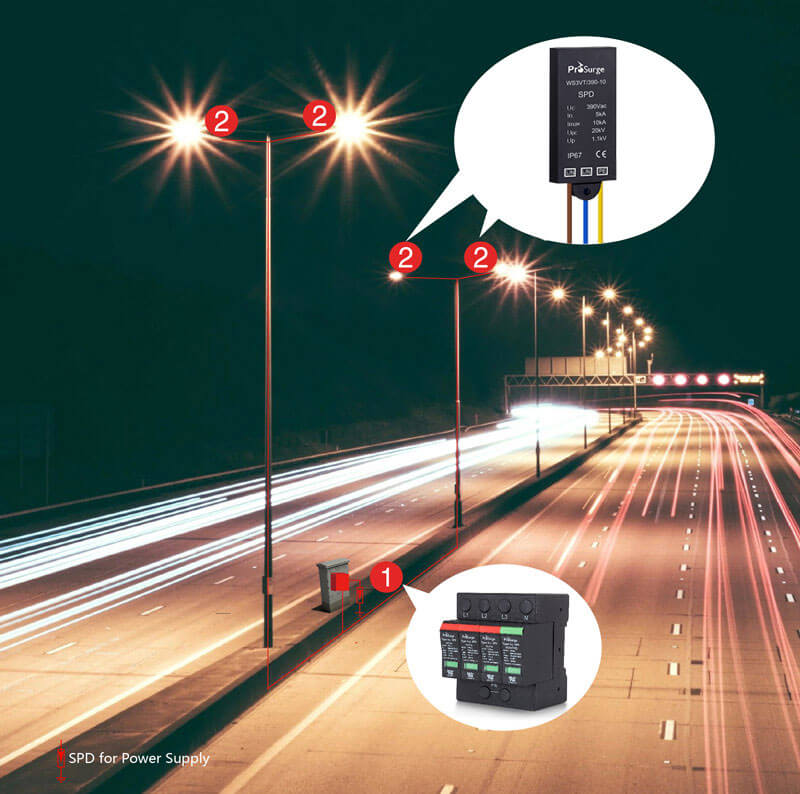 LED Surge Protection Device Model Selection
SPD Location
SPD Type Recommendation
(UL 1449)
Prosurge Model
Surge Capacity
8/20μs
Mounting
1
Control Cabinet
Type 1ca
SP320/3PN-S
50kA
DIN-rail
2
LED Light Fixture
Type 4ca
WS3VT/390-10
10kA/20kV
Hardwired
Type
WS3VT/390-10
In accordance with
IEC61643-11:2011; UL1449 4th
Category IEC/VDE/UL
II+III/C+ D/ Type 4 CA
Ports/Protection mode
1/ full mode protectoin
Power system (single phase)
110VAC~347VAC
Max. continuous operating voltage
Uc (AC)
390VAC
Nominal discharge current(8/20) In
5kA
Max. discharge current(8/20) Imax
10kA
Open circuit voltage Uoc
20kV
Voltage protection level
Up
≤1.1kV
Response time
≤25 ns
Follow current
No
Backup fuse(only required if not already provided in mains)
32A gL/gG
Operating temperature range
– 40ºC ~ +80ºC
connection wire
1.5 mm2 flexible (L/N: Blue/Brown; PE=Y/G)
Enclosure material
ABS; extinguishing degree UL94 V-0
Degree of protection
IP67 (Waterproof)
Dimension
81*37.6*13.4mm
Altitude
≤3000m
Relative Humidity
≤95% Non Condensing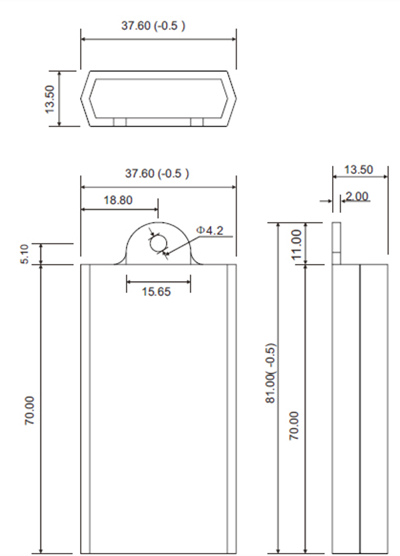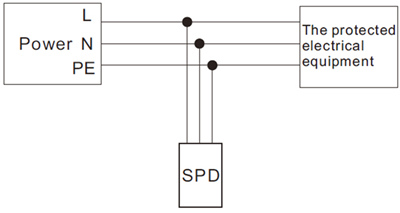 Prosurge Surge Protection Device Products Family
Click to explore our extensive surge protection devices and other lightning protection products.
Contact Prosurge and Get Reply in 2 Hours
see how competitive our price is : )
Live chat with us by clicking the chat button on the bottom right corner
Fill the Contact Form and Get Reply in 2 Hours
For North American market, please contact
For other markets, please contact