Prosurge is glad to announce that its DM series signal SPD (Surge Protection Device) has recently got UL 497B listed. UL 497B is a standard for protector for data communications and fire-alarm circuits and is the most authoritative standard for signal SPD in North America. With the DM series, Prosurge becomes one of the very few companies that are able to provide both UL 1449 AND UL 497B standards SPD worldwide. It represents our innovation and dedication in offering the best surge protection products.
As today's measuring and control system in industry arena are increasingly sensitive, complex and thus more vulnerable to voltage surges. These sensitive devices and systems are critical to company's communication and information processing. Therefore, it is necessary to ensure they are protected from the potentially costly and disruptive events.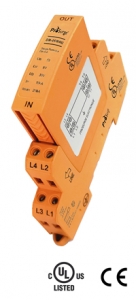 Prosurge's DM Series Signal SPD
Prosurge offers SPD with UL 497B certificate to protect sensitive equipment to increase their useful life and maintain the continuity of the flow of your information. The DM series is designed for universal 1 or 2-pairs data lines surge protection. It features in:
12mm pluggable surge protection device for DIN mounting;
Signal transmission is not interrupted when exchanging module
Two/three-stage protection circuitto limit the transients
LED failure indication to ensure timely replacement (specific model)
Rate load current up to 2A
Earthing is possible on DIN rail
Wide operating temperature-40~85℃
Different models are suitable to use for universal measurement, control, and regulation technology (MCR technology), analog/digital telecommunication and data network etc.
For more information about this newly UL 497B listed signal/data SPD, please contact [email protected]