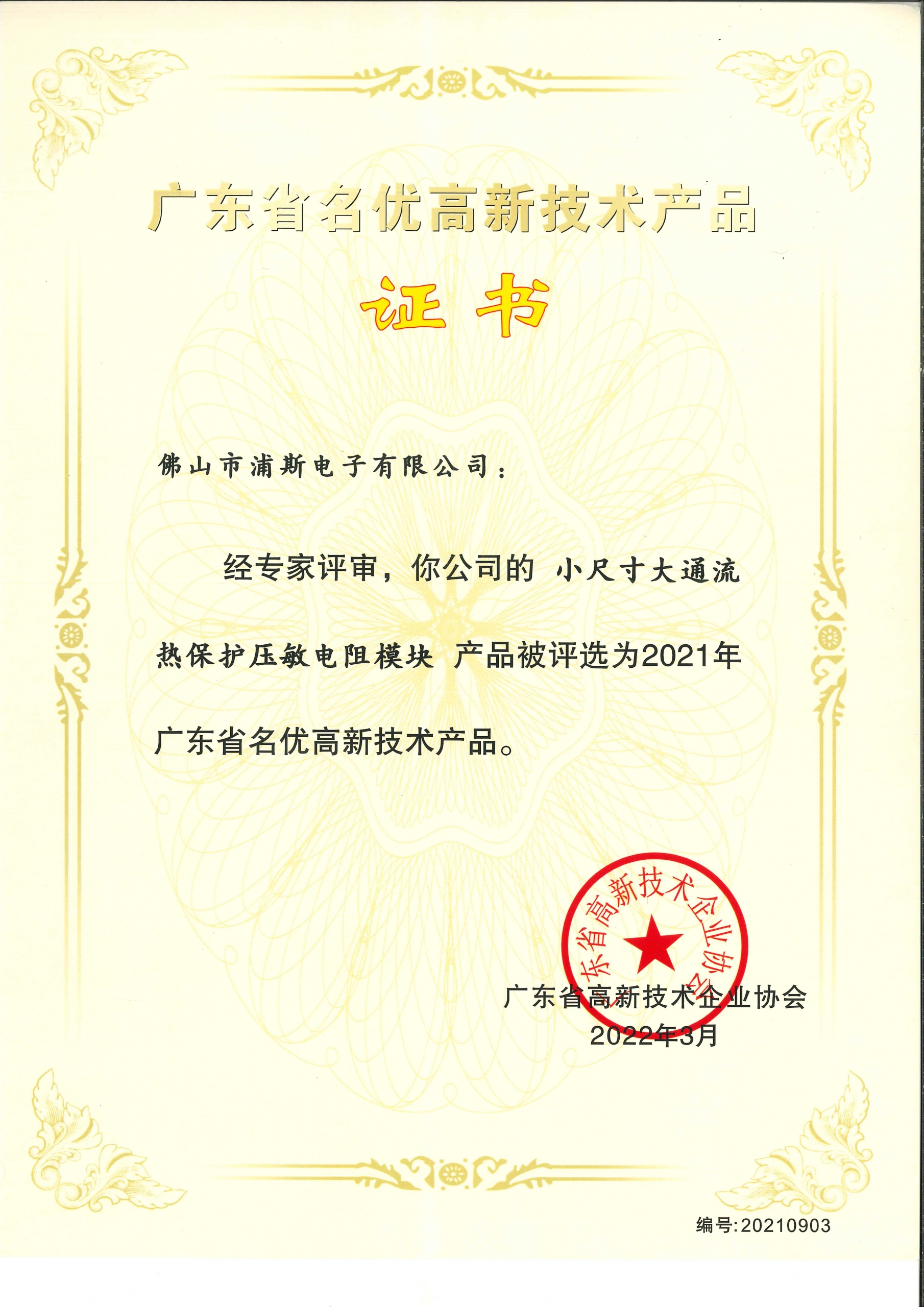 On February 22, 2022, the Guangdong High-tech Enterprise Association officially announced the "2021 Guangdong Top Famous High-tech Product List".
Prosurge Electronics has been successfully awarded as "2021 Guangdong Top Famous High-Tech product" for its "Compact Size, Large Current Thermally Protected MOV Module" .
Starting from 2020, the Guangdong High-tech Enterprise Association had changed from the original "high-tech product identification" to the "Top famous high-tech product selection", and select the top famous high-tech products that reach the international advanced level. "Top Famous high-tech products" are the continuation and further upgrade of high-tech products. The threshold for identification has been significantly increased, the difficulty of declaration is increased.
The conditions for the application and selection of famous high-tech products in Guangdong Province this time are difficulty than ever in the past, and the selection is more stringent. The declared products must have the core patents developed, and the technical parameters must be confirmed by authoritative testing institutions and higher than the design standards. This year only 1538 products passed, the pass rate was less than 10%.
Prosurge is committed to the independent research and development and production of lightning and surge protection devices. Prosurge was recognized as a national high-tech enterprise in 2012. Through years of development, Prosurge has become a globally competitive manufacturer of lightning and surge protection products.
Our main products include lightning protection and surge protection for low-voltage AC and DC power supplies, surge protection for data networks and standard interfaces, telecommunications, wireless transceivers and other systems, lightning and grounding intelligent monitoring. Products are widely used in electric power, post and telecommunications, rail transit, construction, petrochemical, new energy and other industries and fields.
With its deep understanding of the lightning protection field, as well as its grasp of the world's advanced technical level and quality management system, Prosurge has established a sales network covering more than 60 countries and regions around the world, and overseas sales account for more than 95%. We are the only influential Chinese lightning protection brand in the North American market.