SP Series  Class II / Type 2 DIN-rail Surge Protection Device (SPD) – IEC Standard
Prosurge SP series DIN-rail surge protection device (SPD) is Class II / Type 2 (IEC 61643-11) pluggable surge protector, designed for low-voltage power supply system protection against the damage from surges and spikes caused by lightning and other electrical sources.
SP series surge protection device features Prosurge's global patented fail-safe and self-protected technology, offering quick thermal response and perfect cut-off function and providing fast and reliable protection for various power supply systems.
Built with window fault indication and optional remote alarm contact, it can monitor the operating status of the SPD itself.
SP Series  Class II / Type 2 DIN-rail Surge Protection Device (SPD) Features
KEMA certified T2 SPD with high energy MOV technology
High reliability due to global patented thermally protected with special arc-extinguish device (TPAE technology).
High surge current discharge capacity up to 40kA 8/20
Pluggable module for easy replacement
Degradation indication & optional remote signal contact.
Comply with IEC/EN 61643-11, UL 1449 4th, IEEE C62.41, CSA C22.2

Models Selection for 

Class II DIN-rail Surge Protection Device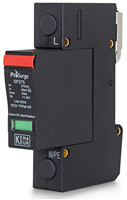 Part No
Pole
Maximum Continuous
Operating Voltage, Uc (VAC)
Voltage Protection Level, Up (kV)
Application
L-N
L-G
N-G
L-N
L-G
N-G
L-N
L-G
N-G
SP150(-S)
1
150
150
150
0.8
0.8
0.8
✔
✔
✔
SP275(-S)
1
275
275
275
1.4
1.4
1.4
✔
✔
✔
SP275VT(-S)
1
275
275
275
1.4
1.4
1.4
✔
✔
✔
SP320(-S)
1
320
320
320
1.5
1.5
1.5
✔
✔
✔
SP320VT(-S)
1
320
320
320
1.5
1.5
1.5
✔
✔
✔
SP385(-S)
1
385
385
385
1.8
1.8
1.8
✔
✔
✔
SP255T(-S)
1
–
–
255
–
–
1.5
✘
✘
✔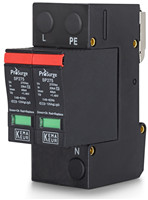 For Single-phase TN / TT System
Part No
Pole
Power distribution system
Nominal
Voltage
Maximum Continuous
Operating Voltage, Uc (VAC)
Voltage Protection Level, Up (kV)
(VAC)
L-N
L-G
N-G
L-N
L-G
N-G
SP150/2P(-S)
2
TN
110/120
–
150
150
–
0.8
0.8
SP150/PN(-S)
2
TN/TT
150
–
255*
0.8
–
1.5
SP275/2P(-S)
2
TN
220/230
–
275
275
–
1.4
1.4
SP275VT/2P(-S)
2
–
275
275
–
1.4
1.4
SP275/PN(-S)
2
TN/TT
220/230
275
–
255*
1.4
–
1.5
SP275VT/PN (-S)
2
275
–
255*
1.4
–
1.5
SP320/2P(-S)
2
TN
220~240
–
320
320
–
1.5
1.5
SP320VT/2P(-S)
2
–
320
320
–
1.5
1.5
SP320/PN(-S)
2
TN/TT
220~240
320
–
255*
1.5
–
1.5
SP320VT/PN (-S)
2
320
–
255*
1.5
–
1.5
SP385/2P(-S)
2
TN
220~240
–
385
385
–
1.8
1.5
SP385/PN(-S)
2
TN/TT
385
–
255*
1.8
–
1.5
*PN : GDT Module is used for N-PE pole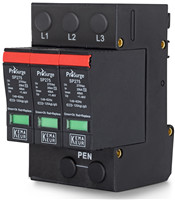 For Three-phase TN-C / IT System
Part No
Pole
Power distribution system
Nominal
Voltage
Maximum Continuous
Operating Voltage, Uc (VAC)
Voltage Protection Level, Up (kV)
(VAC)
L-N
L-G
N-G
L-N
L-G
N-G
SP150/3P(-S)
3
TN-C / IT
110
–
150
–
–
0.8
–
SP275/3P(-S)
3
220/230
–
275
–
–
1.4
–
SP275VT/3P(-S)
3
–
275
–
–
1.4
–
SP320/3P(-S)
3
220~240
–
320
–
–
1.5
–
SP320VT/3P(-S)
3
–
320
–
–
1.5
–
SP385/3P(-S)
3
220~240
–
385
–
–
1.8
–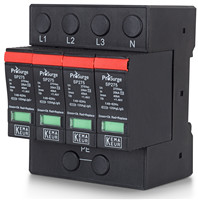 For Three-phase TN / TT System
Part No
Pole
Power distribution system
Nominal
Voltage
Maximum Continuous
Operating Voltage, Uc (VAC)
Voltage Protection Level, Up (kV)
(VAC)
L-N
L-G
N-G
L-N
L-G
N-G
SP150/4P(-S)
4
TN
110
–
150
150
–
0.8
0.8
SP150/3PN(-S)
4
TN/TT
150
–
255*
0.8
–
1.5
SP275/4P(-S)
4
TN
220/230
–
275
275
–
1.4
1.4
SP275VT/4P(-S)
4
–
275
275
–
1.4
1.4
SP275/3PN(-S)
4
TN/TT
275
–
255*
1.4
–
1.5
SP275VT/3PN(-S)
4
275
–
255*
1.4
–
1.5
SP320/4P(-S)
4
TN
220~240
–
320
320
–
1.5
1.5
SP320VT/4P(-S)
4
–
320
320
–
1.5
1.5
SP320/3PN(-S)
4
TN/TT
320
–
255*
1.5
–
1.5
SP320VT/3PN(-S)
4
320
–
255*
1.5
–
1.5
SP385/4P(-S)
4
TN
220~240
–
385
385
–
1.8
1.8
SP385/3PN(-S)
4
TN/TT
385
–
255*
1.8
–
1.5
*PN : GDT Module for N-PE pole
Email Prosurge and Get Reply in 2 Hours
see how competitive our price is : )
Live chat with us by clicking the chat button on the bottom right corner
Fill the Contact Form and Get Reply in 2 Hours
For North American market, please contact
For other markets, please contact